The Yawns are Coming! Most books are meant to entertain your child, this one puts them to sleep! The story is about two best friends who have big plans for their sleepover. They aren't going to go to bed at all – they'll stay up playing all night long. But then it happens: The YAWNS show up! And as much as they try to outrun and hide from them, it's no use: The Yawns catch them. Maybe they could keep going anyway, but then a DOZE …followed by the dreaded SNORES. Will our heroes escape the SLEEPIES?
Out this Spring!
Preorder at:
I've been hard at work on the Ordinary People Change the World series but also on something new. My graphic novel COSMIC COMMANDOS comes out in July, but I think everyone was happy with it because I'm now working on the sequel which will be called Monster Mayhem. It'll be out in 2018. Seems like a long way off, but I'm deep into the first draft. So, I hope you remember to pre-order COSMIC COMMANDOS!
I've written and drawn my first graphic novel and it's due out on July 4, 2017 called Cosmic Commandos!
Here's the synopsis:
In this graphic novel adventure for readers of Hilo and Roller Girl, a pair of twin brothers accidentally bring their favorite video game to life—and now they have to find a way to work together to defeat it.
Jeremy and Justin are twins, but they couldn't be any more different from each other. Jeremy is a risk taker who likes to get his hands dirty; Justin prefers to read, focus, and get all his facts straight before jumping in. But they do have one important thing in common: They both love video games. When Jeremy wins a cereal-box charm that brings his favorite video game to life, villains and all, he finds that he's in way over his head. Justin knows everything there is to know about the rules of the game—he read the handbook, of course—and Jeremy isn't afraid to try new things. Can these two mismatched brothers work together to beat the video game that has become their life?
So, go out and preorder!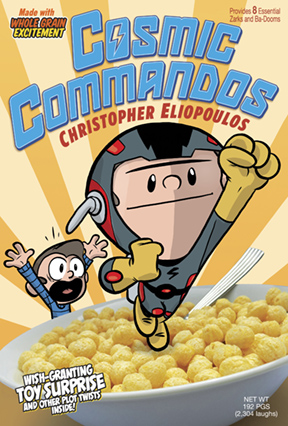 I'm out on a book tour this month to promote I Am George Washington and I Am Jane Goodall. If you're in the area, come say hi!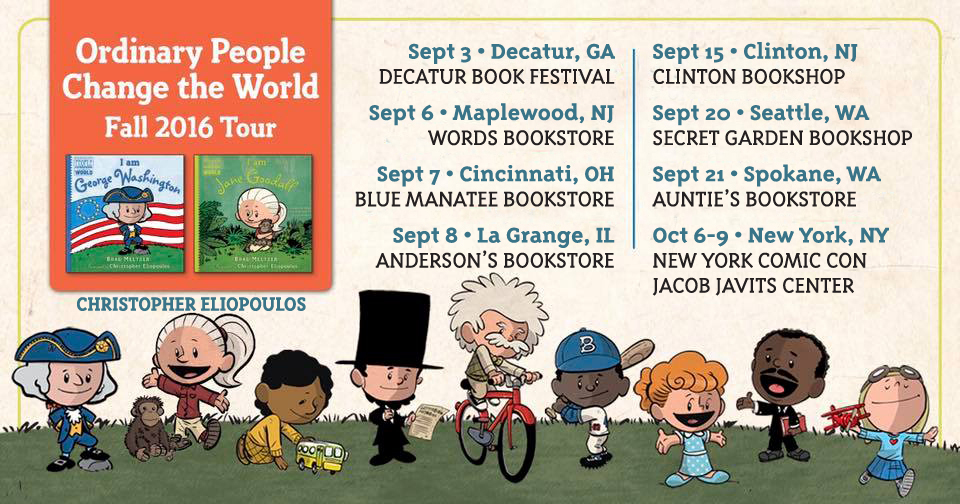 …but if you go to MISERY LOVES SHERMAN you can read the old archive and adding some new strips randomly.
So a few years ago, I did a free online comic strip. Did it for a few years until other work became so plentiful that I had to make choices. The choice was to stop doing the strip for a time. Well, it's become a LONG time. But every now and then I do a strip when the feeling strikes. I'd truly love to do more–it's a form of therapy for me. But in the meantime, take a look through the archives if you want to see some earlier work.
Wow. I've had so much to do recently, I've really neglected this site. Need to change that. So, hopefully, look for more in the future.. Not sure what yet.
I'm sure I can post works in progress and other tidbits. Keep an eye out.
In the meantime, here's a sketch I did for Baby Flash Gordon. A story I'm doing for the Flash Gordon annual  out this September!

I've read about what causes people to not take action on a creative project. I've heard of "Fear of Failure" and "Fear of Success." For me, though, I get hung up on what I call a Fear of mediocrity.
I fear just doing something that's okay.
I've done bad stuff. Heck, most of my work has been bad. At least in my eyes. I always want to improve and that always makes me see previous work as bad. Well, not "bad" but not up to standards I feel are up to snuff. Most of my early work, and some of my later work has been bad. I've developed, through hard work, a level of professionalism that shows I have improved. I've done a few things that I feel were good. Some because of award nominations, but some because I see I stepped out of a comfort zone.
I always want to push myself past mediocrity. I want to do work that is better than just okay. I don't always do it. I try, but sometimes things just fall apart. So, when I start a new project, I'm not hampered by success or failure, what gets me overanalyzing is always questioning if the work is just okay. Bad is okay. I've done bad and I will probably do bad again. Heck, you can't do great without doing an awful lot of bad.
Sometimes worrying if something is just mediocre makes me push harder and that's a good thing. I want more of that worry. Not the kind that makes me stop and start.
I'm working on a pitch for a new book. I don't want it to be middle-of-the-road. So, I keep telling myself to analyze the story. Find other avenues the story could take. Don't take the safe, trite route. I'm going to try to dare to be bad to find something good.
So, 2013 has been a mixed bag sort of year. I've had some highs when it came to my career. And had some lows when we lost my mother-in-law in September. But, I guess that's life in a nutshell. There are good and bad things that happen all the time. Just because it happens all in one year doesn't make it any different than any other year.
I'm looking forward to the beginning of 2014. I am running the Dopey challenge in Disney World the first week, then I fly home and we launch the first to books in the children's book series with Brad Meltzer.
There's other things going on as well, but the one thing I haven't had time for has been my old strip, Misery Loves Sherman. I miss exploring my own thoughts and feelings and trying to create stories out of them. Not sure when I can get back to it or if I will, but I miss putting stuff like that out there. So, I think I may start posting more here in 2014. It's quicker and less stress. We'll see.
Maybe I'll post behind-the-scenes stuff on what I'm working on. Perhaps work I'm doing on the Heroes books or the issue of Hawkeye I'm drawing. Maybe some videos or sketches. We'll see.
Since you took the time to come here even though this place has been quiet for a while, what would you like to see? Let me know.
Until then, have a safe and healthy New Year and please, please, PLEASE, don't drink and drive. And take away the keys from someone who is planning to.
I've been told that breaking into the comics industry is easy, it's the staying in that's hard..
I've been working in comics since 1989, so I thought I would share what I've learned over those years that helped me keep working. Some seem obvious and others outright stupid, but some people don't seem to know them.
This advice applies to not just pencilers, writers and other credited comics-makers, but all freelancers and staff people. In fact, it's pretty good advice for anyone in business.
•Be good at your job. Now, that sounds like a "duh" moment, but some people starting out think the lower-level positions aren't worth their time. Wrong. If you are sitting in the production department dreaming of being a professional penciler and slag off on your current job, people notice. If someone sees you putting pride into all that you do, they will believe you'd do the same in the job you really want.
•Don't be a jerk. Obvious, yes. But in the stressful environment of periodical publishing, things can get tense. Don't take out your frustration on others. People talk and if you become known as a jerk to one person, expect everyone to hear it.
•Don't lie. Again, obvious, but hear me out. You're a colorist and you have a crushing deadline. Do you tell your editor that you'll have it done in time when you damn well know you won't, or do you tell them honestly that it's not going to happen? Editors are jugglers. They have a lot going on at once and if you screw them over, they drop the balls. They'd much rather you be honest and work with them. More than likely they can give you more time, but more importantly, they know that you'll be honest with them in the future. I've seen too many people no longer in the business over-promise.
•Answer questions, don't ask them. What? What I mean by that is be a problem-solver. Be helpful, take charge of a problem. Do your best and then take it to an editor. Even if it's not exactly what they want, they will appreciate the effort and it may help them solve the problem.
•You're a pro, not a fan anymore. Don't geek out on your childhood idol. Within professional circles, the fan geek stands out. You are their equal, act like it. Don't ask for a sketch, don't try to be their friend, don't ask them to critique your work. There may come a time when a fellow pro will ask to check out your work, but remember don't take advantage of their courtesy. And don't start sending out samples to everyone you work with. It makes them feel uncomfortable to work with you if they feel your stuff is not up to snuff.
•Keep your mouth shut. Don't gossip, don't listen to gossip, don't assume anything to be true. Freelancers are old washer women. We like to talk. I'm guilty of it. I try not to, but it happens. For your sake, just keep out of it. No one likes a busy-body. Don't go on Twitter or Facebook and talk about other creators in a negative way. Remember, bad talk about someone could influence people into not hiring them or you.
•Get better. Don't rest on your laurels. Always try to improve or try new things. Even in the most mundane jobs. When I was on-staff at Marvel, I went from letterer to senior letterer in a year because I always tried to get better and people noticed. I came in early, I worked through lunch, I stayed late. Editors began noticing I'd come in early and they wanted me to do their corrections, so they began coming in early to ensure I did their work. Even now, I try new things and push to improve.
•If you're good enough, you're not good enough. I hear so many people wanting to be writers or pencilers. And usually, their first remark is, "Well, if that guy can get work, I should. My work is better than theirs." Wrong. You don't know why they get work and comparing yourself to the "least talented" person is not where you should be going. You, as a penciler, need to be better than Jim Lee or Greg Capullo or the Kuberts. As a writer, work to achieve to be better than Bendis or Miller or Moore. Strive for that. Make publishers need to have you. Why work to be just good enough?
•Be friendly even when you don't want to. Be nice to people. Be cheerful and upbeat. No one wants to work with a person who complains all the time (like me), when the next guy over who does the same job equally well is pleasant and a joy to work with. I know it's hard sometimes to feel that way, but a quick call or an e-mail that is nice is much better than having the person on the other end want to work with anyone but you.
•Promote your work. This one I've always had trouble with. It's okay to get online and promote your work. It's your work, not you. If someone doesn't like your work, it doesn't mean they don't like you. And, even if they don't, who cares? You can't make everyone happy. And don't be shy. Go on Twitter and Facebook and promote. I've found that the people who self-promote most, tend to do better and get more work over time. Perception is reality. You tell enough people that the work is good and exciting and it will be those things.
•Don't procrastinate. Get things done because who knows if someone will come along with another assignment. Maybe even that dream assignment, but you insisted on playing X-Box and still have to finish that first job.
•You can say no. This is another one I've had trouble with. Be honest with people. If you can't or don't want to do a job (freelance, I mean. Staff, you do what you're asked to do)say no to it. The fear as a freelancer is once you say no, that editor or publisher will never ask you again. And that may happen, but at a later date send the editor a friendly note saying that you're looking for work. People appreciate when you don't waste their time. Don't say yes, then bail on a job halfway through because you had no time or interest.
•Respect your elders. I see so many newcomers in the business for five minutes telling everyone the way things should be done. They rip people who have been in the business much longer but have no clue what they're talking about. Instead of bashing, how about contacting them and telling them how much you like their work? There are so many tips and tricks that people in the industry have gained over their years. Show them the respect they've earned.
Okay. There are plenty more, but I have a deadline to make. If you have any other tips, be sure to share them. After you get your work done!